ASB security is als een van de weinige Nederlandse bedrijven eigenaar van het NEN-EN50518 certificaat. EN 50518 staat voor de hoge Europese norm voor 'Monitoring en Alarmontvangstcentrales' (ook wel MARC genaamd). Iwan Debets, directeur van ASB Security: "Door middel van deze certificering benadrukken we dat ASB een betrouwbare partner is, waarbij de kwaliteit van alarmtransmissie en monitoring op de eerste plaats staat."
Audits door KIWA
Kiwa heeft als onafhankelijke organisatie de certificering bij ASB verzorgt. In april en mei werd het bedrijf door auditors van Kiwa bezocht, die grondig controleerden of de PAC aan alle technische eisen voldeed. Ook de locatie, constructie en procedures werden kritisch onder de loep genomen. Peter Voshol van Kiwa: "Bij ASB is de kwaliteit van de dienstverlening en de borging in procedures en voorzieningen prima op orde. Na het behalen van het certificaat voeren we jaarlijks controles uit, zodat continu duidelijk is dat de alarmcentrale aan de gestelde eisen voldoet."

Logische stap
"Als voorloper in de beveiligingsmarkt en Alarm Transmissie Service Provider (ATSP) was het voor ons een logische stap om deze certificering voor betrouwbare monitoring aan te vragen", vertelt Iwan Debets, directeur van ASB Security. "Natuurlijk hebben we bij het inrichten van onze nieuwe alarmcentrale al rekening gehouden met de Europese norm, we zijn daar nauw bij betrokken. We willen niet alleen vooroplopen in Nederland, maar in heel Europa. We hadden er alle vertrouwen in dat we de strengste tests met goed resultaat zouden doorstaan." In de weken voor de keuring is zijn team -ondersteund door een consultant van Protify- bezig geweest om alle eisen na te lopen en de gewenste informatie aan te leveren.

Beter worden en meer dienstverlening
De certificering voor EN50518 is een belangrijke stap voor ASB Security, met name voor kritische klanten die de hoogste eisen stellen aan betrouwbare alarmtransmissie. Iwan Debets: "Met deze goedkeuring kunnen we onze klanten de zekerheden bieden waarop ze zitten te wachten. We willen de lat nu nog wat hoger legen en beter gaan presteren. Zo willen we het werk voor ons personeel gemakkelijker gaan maken en zorgen dat onze klanten nog eenvoudiger zelf met hun alarmsysteem aan de slag kunnen. En met het verkrijgen van onze PAC-vergunning zullen we meer klanten alarmcentrale-diensten kunnen aanbieden in de nabije toekomst."

NEN-EN 50518: Europese norm voor PAC's
NEN-EN 50518, de Europese norm voor 'Monitoring en Alarmontvangstcentrales' (ook wel MARC genaamd), bevat eisen voor een operationele particuliere alarmcentrale. De norm bestaat uit drie verschillende onderdelen:

EN50518-1: Locatie- en constructie eisen
Bijvoorbeeld de aanwezigheid van sluisdeuren, kogelwerend glas en aparte keuken voor de medewerkers in de meldkamer.
EN50518-2: Technische eisen
Bijvoorbeeld eisen aan veilige informatieoverdracht en voorzieningen bij calamiteiten, zoals stroomuitval.
EN50518-3: Procedures en eisen voor de werking
Bijvoorbeeld de acties die gevolgd worden bij een alarm en garanties die de alarmcentrale kan geven voor doormelding naar de meldkamer van de hulpdiensten.
Meer informatie
Wilt u meer weten over de meldkamerdiensten van ASB, of de norm EN50518? Neem dan contact op met ASB Security via ons contactformulier, e-mail (info@asb.nl) of telefoon: 040 – 262 23 22.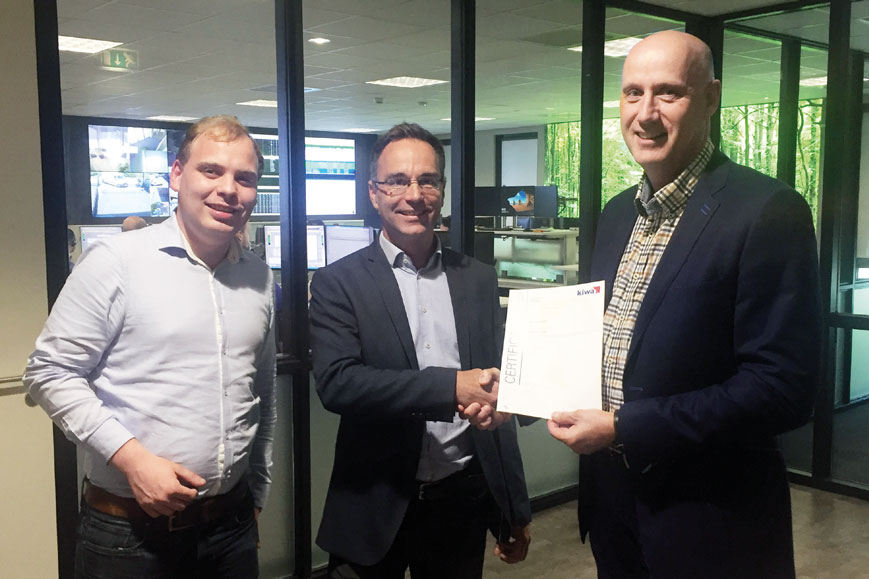 Peter Voshol van Kiwa (rechts) feliciteert ASB directeur Iwan Debets met het certificaat. Tim Kemper, Compliance Consultant bij Protify (links) heeft ASB Security geholpen bij de certificering.