De media berichten er dagelijks over: het aantal ram- en plofkraken is afgelopen jaar flink gestegen. Uw klanten, personeel en uzelf lopen daardoor steeds meer risico om het slachtoffer te worden van criminele activiteiten. Wat kunt u hieraan doen met de kennis van vandaag? Kies MIST als de ultieme beveiliging en start in 2017 met roken.
Kom in actie voor betere beveiliging!
Mistbeveiliging is efficiënter, effectiever en praktischer dan veel van de andere beveiligingsmogelijkheden die op de markt beschikbaar zijn. Keer op keer blijkt dat inbraken en overvallen direct stoppen bij een mistuitstoot. De Sentinel mistgenerator produceert een dikke, onschadelijke rook, die het zicht totaal ontneemt. Hierdoor is het voor criminelen praktisch ónmogelijk om uw waardevolle spullen te stelen. Door zichtbaar te communiceren dat u mistbeveiliging heeft, wordt uw winkel of bedrijf direct een stuk minder interessant voor criminelen! Ook uw verzekeraar zal de mistbeveiliging en het meegeleverde VDS-certificaat waarderen.


De mistmachine is gecertificeerd en voldoet daarmee aan alle onderdelen van de Europese norm voor mistmachines, de EN50131-8.
Welke mistmachine is voor mij de beste?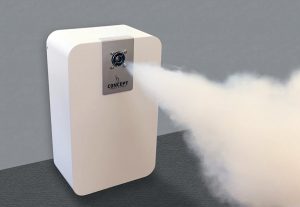 "Kan de Sentinel bandieten verslaan?" Jazeker, met een Sentinel mistgenerator haalt u de krachtigste machine in huis die er in Nederland beschikbaar is. Zo zijn er verschillende types, waardoor de capaciteit gemakkelijk is af te stemmen op de ruimte waarin hij dienst doet. Wat de Sentinel ten opzichte van andere machines uniek maakt, is dat hij bij een mistuitstoot supersnel weer bedrijfsklaar is en een volgende uitstoot geeft. En nog een uitstoot. En nog een uitstoot. Andere machines doen hier vaak tientallen minuten over of bieden geen mogelijkheid voor een aanvullende mistuitstoot. Kijk hier naar als u voor de veiligste oplossing gaat. Of beter nog: meld u aan voor een gratis mistdemo bij u in de buurt. Ervaar hoe het is om als crimineel letterlijk tegen Sentinel mistbeveiliging aan te lopen. Afhankelijk van het type biedt de Sentinel mistvolume tot 1950m3 per minuut; een nachtmerrie voor iedere bandiet.
Kies voor 100% mistgarantie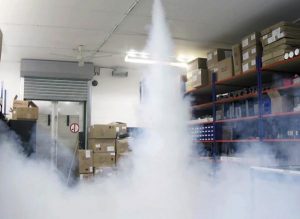 Alle Sentinel modellen zijn uitgerust met een noodstroomvoorziening, zodat de machine bij netspanningsuitval nog steeds gegarandeerd blijft functioneren. Wij gaan echter nog een stapje verder waar ander mistmachines en leveranciers ophouden. Als enige in Nederland biedt ASB Security 100% mistgarantie. Wij noemen dat de 'Sleep Well Warranty' (SWW). Om er zeker van te zijn dat de aanwezige mistmachine het doet bij calamiteiten, checken wij continu automatisch op actiebeschikbaarheid. Staat hij aan? Is hij op de juiste temperatuur om direct te kunnen werken? Zit er voldoende mistvloeistof in? Is de stroomtoevoer niet stiekem doorgeknipt? Etc. Wanneer er iets niet goed is rapporteert ons monitoringcentrum hier direct over. Zo heeft u niet alleen een mistmachine in huis, maar weet u ook zeker dat hij het doet en slaap je als ondernemer beter!
Nieuw in 2017: mistbeveiliging zónder investering
In de loop van 2017 introduceert ASB Security een nieuwe SWW-productlijn. Daarmee komt 100% gegarandeerde mistbeveiliging voor een vast bedrag per maand beschikbaar, zonder dat u hoeft te investeren in apparatuur. Daarmee nemen we ook de mogelijke financiële drempels voor mistbeveiliging weg, waardoor er geen enkele reden meer is om niet te kiezen voor deze effectieve vorm van beveiliging. Bent u hierin geïnteresseerd? Meld u dan aan voor meer informatie over de nieuwe dienst.
Wil u meer informatie over mistbeveiliging? Neem dan contact met ons op. Een van onze specialisten brengt graag in kaart wat de voordelen voor uw onderneming"zijn.
Lees verder:
ASB Security en mistmachines
Productwebsite Sentinel mistgeneratoren
Veelgestelde vragen over mistmachines